Article written by :
Home and Gardens Information
With the cool weather here, it's time to get patio heaters out, so you can still enjoy your patio. A tabletop patio heater
is generally the size of your regular table lamps. They are designed with decorative qualities so they will look great on your patio table. Most of these heaters are halogen or propane. You will feel heat from these two heaters no matter where you sit at the table. The propane heater has the tank concealed in the base of the heater. These heaters are small and portable but are not great at heating a big patio area. One of the disadvantages of these lamps is someone accidentally tipping it over if they reach across the table.
If you have children eating at the patio table, make sure they do not reach across the table or touch the heater because they can be seriously hurt. Most of these heaters will warm an area in a circle about 10 feet across. You can adjust the heat output from 7,000 to 11,000 BTUs. Most of the propane table top patio heaters use the one-pound canister. Some of the propane heaters
have a kit you can buy to attach these heaters to a twenty-pound tank so you do not have to worry about running out.
You can coordinate your table top patio heater with your patio furniture
by getting a heater in stainless steel, bronze, or antique copper finishing. Some of the heaters have safety screens to prevent you from being burned and an automatic safety switch that shuts off if the heater is tipped over. They also come with an easy-light push button ignition system.
In addition to using
these on the patio table, they can also help heat a small greenhouse. Most people who purchase these patio heaters prefer to buy the ones that use propane gas. They like the idea that they can centralize the heat to the table, and not have to heat a large area when it is not necessary. You can have that romantic dinner for two without being too chilly. Table top patio heaters are new here in the United States but are slowly catching on.
It is economical, only costs pennies on the hour to operate, and is easy to take anywhere. This heater will provide 10 to 25 degrees of warmth. With the small cylinder of gas, it will offer approximately 4 hours of warmth if you run the heater continuously. These table top patio heaters cost under $200 & can be purchased at your home improvement store, or, better yet, get one online
& have it delivered to your door.
Some of these patio heaters are designed to look like a regular table lamp. If you are one of those people who enjoy sitting outside on a chilly fall or spring evening watching the stars, this small table top patio heater is what you need. As mentioned before, it is also good to heat a greenhouse, so, if you want to start some seedlings early, this table top patio heater is what you should buy. Be warm with a table top patio heater while you are enjoying those cool evenings.
Check out these amazing tabletop patio heaters
Bond Rialto Propane Tabletop Firebowl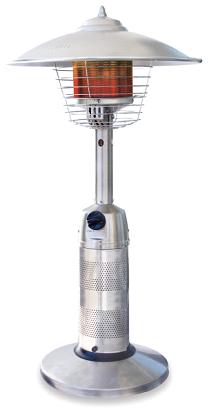 UniFlame GWT801B Stainless Steel Round Tabletop Patio Heater
Heats up to a 10 foot Circle. ODS (Oxygen Depletion Sensor). Safety Tilt Switch. Pilot with Piezo Ignition. Weather Resistant Hardware. CSA Certified. 1 year limited warranty.  14″ x 20.5″ x 39″

Vacation Day Electric Tabletop Patio Heater
This sleek and stylish heater sits on your outdoor table and lets you stay cozy and warm on your deck or patio, heats up to an 12′ circle. The sleek and stylish design compliments any outdoor decor. Dimensions: 19.7″L x 19.7″W x 37.4″H.